Polyvinyl acetate emulsion adhesive formula production process
All the specifications and requirements are taken into consideration and well implemented during design and development. We work on various parameters like dimensional accuracy, shapes, sizes and make sure we end up satisfying the clients to the fullest. We offer our customers highly qualitative and extremely robust, economical and highly effective PVA Emulsion Resin Plants. Our team members make sure that every product supplied fulfills the specific standards as desired by our clients.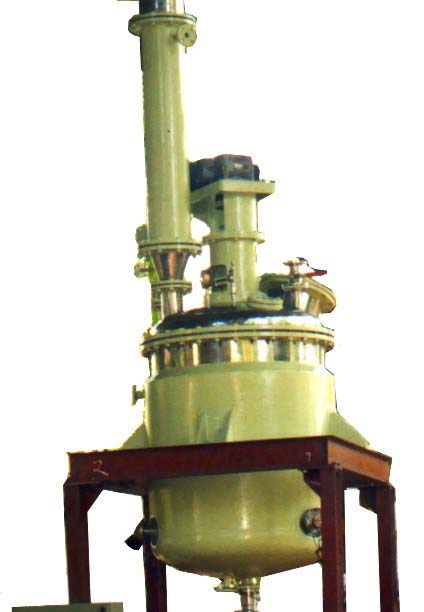 Polyvinyl acetate emulsion adhesive formulation and production process
Polyvinyl acetate emulsion adhesive formulation and production process of a, the formula vinyl acetate polyvinyl acetate high vinyl acetate polyvinyl acetate
710 kg of vinyl acetate
Water 636 kg
Vinyl alcohol
Polyvinyl alcohol (PVA) 62.5kg
Persulfate (diluted 10 times with water) 1.43 kg
Octylphenol ethoxylates 8 kg
**** (10-fold diluted with water) 2.2 kg
Dibutyl phthalate
Second, the production process Polyvinyl alcohol and water to dissolve the kettle and stir for 10 minutes warming up to 90 , 4 hours dissolved, dissolved into 10% solution. The dissolved PVA solution after filtration, into polymerization reactor, Jiaxin Ji phenol ethoxylates and rendering single 100 kg (about the total amount of monomer 1 / 7 or so), and the concentration of sulfuric acid 10% off 5.5 kg of ammonium solution, close the feeding holes, open cooling water. Began to heat up, within 30 minutes rose to 65 , when the drop occurs when the sight glass, close the steam valve (about 30-40 minutes), the temperature rose from 75-78 , then return to normal, that began to raise a single body (in 8-9 hours plus end). At the same time an hour plus 50 grams of ammonium persulfate (with 10-fold diluted with water) the reaction temperature is high or low, may be appropriate to control the flow of additional monomer and initiator amount, but shall not exceed the total amount of formula. Recorded every 30 minutes plus monomer reflux conditions and the reaction temperature, monomer increases the flow of records per hour and the amount of initiator. Polyvinyl acetate emulsion polyvinyl acetate latex emulsion made of vinyl acetate emulsion polymerization recipes plus complete information on single formula to observe the reaction solution temperature, such as high (at 85 above) can be appropriate additional 440 grams of ammonium persulfate, additional should be graded to join (one added to the reaction too fast), since the liquid temperature to rise to 90-95 , heat for 30 minutes, cooled to below 50 , add **** solution. Observed after passing the emulsion appearance, dibutyl phthalate added vinegar, stir for 1 hour, the material.