Triple Roller Mill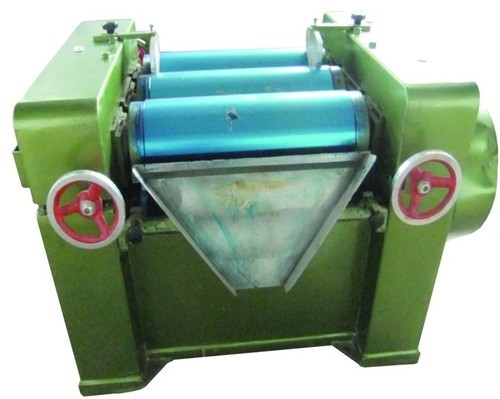 Triple Roller Mill Machine is manufactured, exported and supplied in multiple specifications to meet the varied client needs. Widely acknowledged for its efficient performance, rugged construction and low power consumption, the proffered selection is widely sought after in the industry. These machines are used for mixing printing inks, pharmaceuticals, chemicals ceramics, cosmetics, plastisols, graphite and paints.
Construction:
The main frames are well shaped sturdy and made of high quality cast iron with sliding surfaces well finished.
Chilled Cast Iron Rolls:
Centrifugally cast alloy with hard abrasion zone having surface hardness of about 500 brinnel to a depth of about 12mm.The roll surface is precision ground and internally machined for uniform cooling. The speed ratio between the three rolls is approximately 1:3:9 from slow to fast respectively.
Bearings:
The roll shafts are fitted with self aligning heavy duty roller bearings of high precision. The centre roll is fixed and feeding and discharge rolls are movable mechanically and rolls are adjustable independently from each other.
Gears:
The driving gears are made of made of wear resistant castings. All are single helical hobbing cut and rotate in totally enclosed oil bath lubrication.
Feed Hopper:
The feeding hopper cheeks are made out of fine quality gun metal and sit on the roll surface. The hopper cheeks are adjustable such that you may accommodate smaller and larger batches.
Collector:
The discharge chute is chrome plated and is fitted with an adjustable scraper knife and can be pressed, released, cleaned or replaced easily.

• Drive:
7.5 Hp TEFC AC 415V Electric Geared Motor is provided.