Dispersing, Suspending, Emulsifying & Homogenizing Technik for Powder
Our company offers premium quality Mini Rapid Mixer Granulator to our esteemed customers. Manufactured in accordance with the industry laid standards, these machines are known for their low power consumption, steady performance and hassle-free installation. Offered machines are delivered within the promised time constraints owing to our wide distribution network.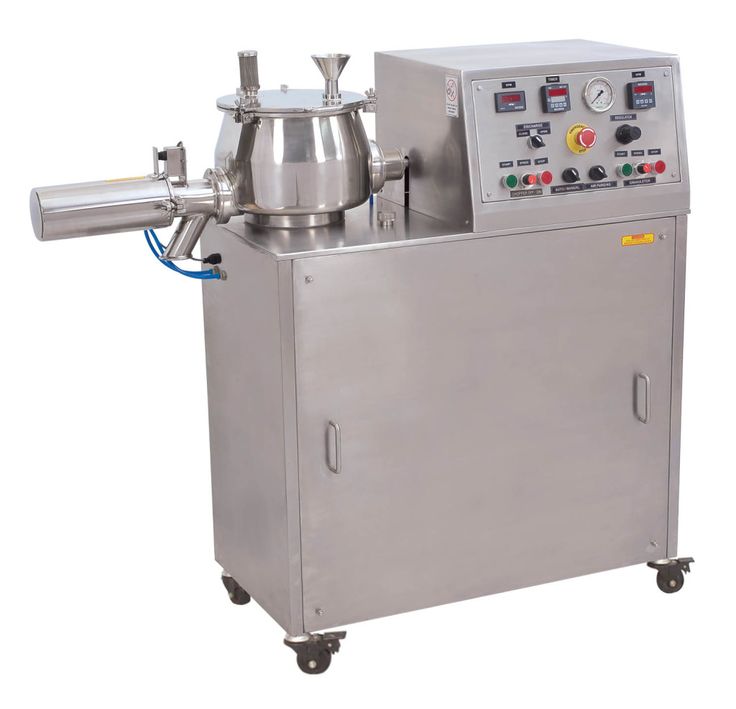 Application & Process :
The Lab High Shear Mixer Granulator is a multi purpose processor equally suitable for high speed dispersion of dry powder, aqueous or solvent granulations and effervescent products and melts pelletization.

High Shear Mixer granulator series is characterized by the compact construction, modern design and the entire user and user friendly attributes which form the ergonomics design aspects are essential for a wide range of application.

The overall concepts of the similar of process based on production model and common needs of consistent processing and ease for operation and cleaning. The mixing bowl designed with shallow and wide diameter for guarantee a consistent product vertex mixing by main impeller and granulated by chopper blade. A typical 3 minute dry mix operation than granulation by adding binder manually or spraying unit with pressurized. A free flowing granulate is produced after 3-5 minute and the granules are than rapidly discharge.


New Design Features :
Designed strictly compliance with the stipulation of cGMP.
Product contact parts AISI 316/ 316 L Quality & Food grade silicon..
High speed mixing, homogenizing, humidifying, granulating and pelletizing process.
Easy to install, operate, clean, convenient & user friendly.
Mobile self-contained unit and Plug 'n' Play concept for easy installation
Variable Speed for main impeller and chopper by VFD.
Air purging system for seals of main and copper impeller.
Product contact parts are mirror finished and non contact parts are matt finished.
Option Available with Interchangeable Bowl for 1 kg, 3 kg and 5 kg.
Optional: Interchangeable bowls, Jacketing for heating & cooling, Spraying unit, Explosion proof motor and push button, automatic advanced PLC controls with HMI Touch screen.
| | | | | |
| --- | --- | --- | --- | --- |
| MODEL- Lab & Pilot | RMG-5 Interchangeable | RMG-10 | RMG-15 | RMG-25 |
| Bowl Volume in Liter | 2.5 / 7.5 / 12 | 25 | 38 | 50 |
| Working Capacity in Kg. | 1 / 3 / 5 | 10 | 15 | 20 |
| Main Impeller Speed- RPM By VFD | 50 to 150 | 50 to 150 | 50 to 150 | 50 to 150 |
| Chopper Impeller Speed RPM | 500 to 2800 Variable | 1400/ 2800 Dual | 1400/ 2800 Dual | 1400/ 2800 Dual |
| Total Electric Power | 2.62Kw | 5.75 Kw | 5.75Kw | 1.75 Kw |