BUCKET STRAINERS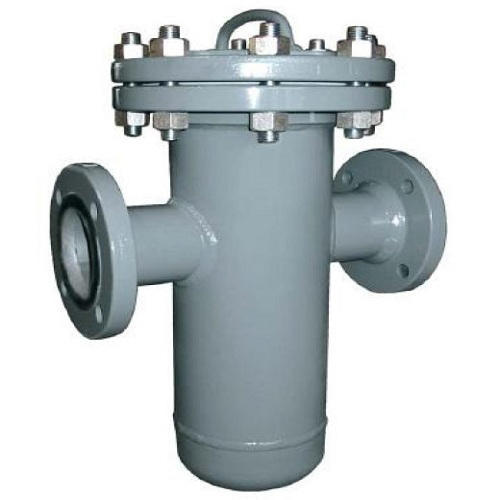 Bucket strainers are mainly installed in horizontal piping. Since the bucket strainer elements housed in the bodies can be taken out from the tops, the debris caught by the elements can be taken outside easily. The design of bucket strainers can be arranged to suit larger piping.
Bucket Strainer is a closed vessel with cleanable or removable screen or element for removing particles from liquids Drain connection provided to remove accumulated particles or solids.
Simplex Basket Strainer / Basket strainer is used where cleaning may occur frequently; it stands to reason that the basket should be able to be removed and replaced as simply as possible.
We offer Multi Basket/Cartridge Filters in fabricated construction for high filtration ratio that can be supplied for very large filtration area. Our company manufactures and supplies Stream Flow Design available in fabricated construction, which reduces the pressure losses.
Basket Strainers and Filters
Types of Covers Design:
Bolted Cover – For Low & High Pressure Application.
Eye Bolt Cover - For Quick Opening.
Hinged Cover - - For Quick Opening.
(TC Connection) Clamp Type – For Low Pressure Application
Construction: Fabricated Carbon Steel or Fabricated SS 304, SS 316 Element: SS 304, SS 316 model or as per customers requirement.Basket strainer applications:
Petrochemical Industries & Refinery Projects
Cement plant
Chemical Industries, Pharmaceutical industries
Power Plants
Sugar Industries
Pulp & Paper Mill
Fertilizer plant & Allied Industries
Basket type strainer Design & Testing International Standard
Design Std : ASME 16.34 / ASME SECTION VIII

Flange Drilling : ANSI B16.5 / BS 10 Table / DIN / IS 6392

Pressure Rating : 150#, 300#, 600#, 900#

Size Range : 50NB to 1000NB

Other Assembly: Other assemblies provided along with the Basket like as Flanged Or NPT Drain & Air Vent Connection, Davit assembly, Legs/Skids & Differentials Pressure assembly are Optional & Provide on Customer request.
Features:
High Filtration Ratio.
Streamline design for low pressure drop.
Threaded / Flanged Drain Plug Valve & Air Vent Valve (Optional).
For the Higher Size Davit assembly for Cover.
Nozzle Arrangement: There are some Different Arrangement of Nozzles are available as per the Customers requirements.